Thank You
€5,538. in vital funds raised at the 2014 City Soul Picnic in Merrion Square Park!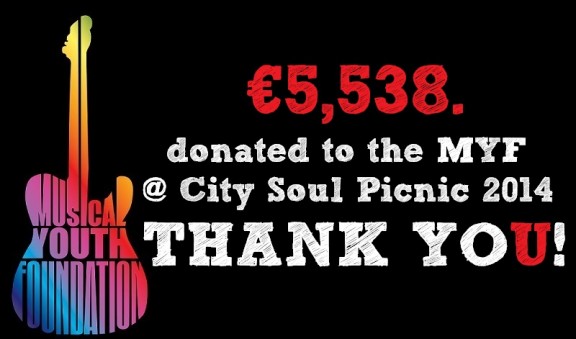 A big THANK YOU to everyone who made a financial donation, volunteered their time and skills to make the festival possible and to all the wonderful musicians who turned up and donated their performance so that we could raise funds to help at-risk kids access life changing music education programmes – an opportunity that they otherwise would not have.
The 8th annual City Soul Picnic in association with Dublin City Council, Failte Ireland and with Laya Healthcare's City Spectacular took place in Merrion Square Park on July 26 & 27 and included performances from (in order of appearance);
Maynooth Gospel Choir
Moo
The Blood Red Mountain Band
Johnny Rayge
Fox E & The Good Hands
Miles Graham
Dublin Gospel Choir
The Sacreblues Band
Mongoose
Moo
Richard Farrell & The Last Tribe
AGE
Big September
Soul Power & The Goods
Here's a little snippet from our Drum Cam which captured young rockers AGE during their much loved performance on stage at Merrion Square Park.