Soul Success
The 6th Dublin City Soul Festival proved another huge success with thousands of people, from all over the globe attending festival events across Dublin City last weekend.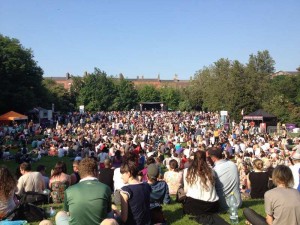 One of the highlights of the weekend was the ever popular Soul Picnic in Merrion Square Park, which once again managed to attract tourists from around the globe to celebrate great music with family and friends in the feel-good festival atmosphere. Twelve hours of live music from an array of great bands and a well overdue dose of sunshine was all it took to make Merrion Square Park the only place to be last weekend as the Soul Picnic rolled into town for another two days of free entertainment for one and all to enjoy.
Festival Founder & CEO Chris Maher says: "A very BIG Thank You to everyone that came out to enjoy the sunshine and music with us in Merrion Square and for their generous donations. We're busy counting the coins still but it looks like we will get very close to or maybe even break the €5k mark which would be fantastic. That would be enough money to keep one of our Guitars for Kids programmes running for an entire year."
Dublin City Soul Festival and the Musical Youth Foundation would also like to acknowledge the kind support of Dublin City Council, Failte Ireland, Pump Audio/Getty Images, Greenstar Waste Management, Zava Media and 103.2 Dublin City FM in making the annual Soul Festival a reality!