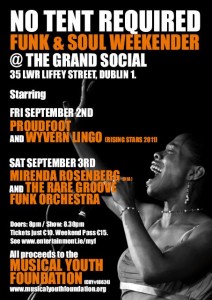 The Musical Youth Foundation is hosting a very special "No Tent Required Funk & Soul Weekender" at The Grand Social on Friday 2nd and Saturday 3rd of September 2011 to help raise funds for our "guitars for kids" programmes.
This is your chance to witness some truly amazing musical performers while helping a very worthy cause at the same time. Tickets are reasonably priced at just €10. each or buy a weekend pass and get two nights out for just €15. while stocks last.
Check out all the details below and make sure to tell your friends about our "No Tent Required Funk & Soul Weekender"!
Friday September 2nd stars…
Proudfoot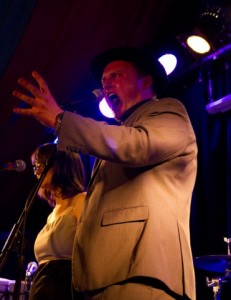 Proudfoot are a well-known Dublin based eight piece band formed in autumn 2008. Since their debut gig in January 2009, Proudfoot have been electrifying audiences with their renowned stage performances. Playing a selection of covers and original songs that combine the best of soul, rock and funk, Proudfoot are led by charismatic front-man Gerard Proudfoot. Boasting one of the tightest rhythm sections in the capital with a show-stopping brass section. Proudfoot are 'grandmasters of the groove' and recently performed at the 2011 Dublin City Soul Festival to a sold out audience!
Wyvern Lingo – Rising Stars 2011
Wyvern Lingo are an amazing 3 piece, all girl band from Bray, Co Dublin. Having recently won the prestigious Rising Stars award on the back of their live performances at the 5th annual Dublin City Soul Festival and Soul Picnic they are currently busy working on a new album in between performing at major festivals across Ireland. Listen to Wyvern Lingo here
Saturday September 3rd stars…
Mirenda Rosenberg & The Rare Groove Funk Orchestra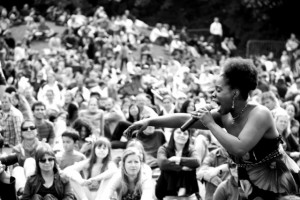 Witness the charismatic Mirenda Rosenberg (USA) & The Rare Groove Funk Orchestra live and in-person and you'll be left with a memory to last a lifetime. One of the greatest, most powerful voices of our time Mirenda is famous for her action-packed live performances.
Born in Springfield, Illinois, Mirenda grew up outside Washington DC. Raised the daughter of an ordained minister, Mirenda's musical influences were initially restricted to Christian and classical music. The discovery of 'the devils music' on her older brother's radio opened up a whole new musical soundscape and introduced her to the likes of Billie Holliday, Bessie Smith, James Brown, Al Green, Aretha Franklin and many more jazz, blues, soul and funk favourites – formative influences who remained constant companions on her musical journey.
Expect to see her up close and personal in the intimate surroundings of Dublin's hottest live music venue, The Grand Social as she celebrates the music as only she can.
Don't miss your chance to experience the funk @ the No Tent Required Weekend at the Grand Social!
All proceeds go to the Musical Youth Foundation (CHY#18624) children's charity.