Michaela Hayes of Radio Nova to run for MYF
Radio Nova's Michaela Hayes is preparing to run the Flora Women's Mini Marathon for the Musical Youth Foundation children's charity. Thank You Michaela, we realise this is a big commitment!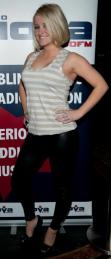 Michaela says: "I think I might be losing my marbles. Until two weeks ago I could barely run a metre and here I am trying to get myself into shape to run the 10k Flora Women's Mini Marathon!! I only have 5 weeks to do it and not only that I've set myself a goal of doing it in 1 hour 10 minutes.. That's right 10k in 70 minutes!!!"
You can show your support for Nova favourite Michaela and the Musical Youth Foundation by donating via her online fundraising page. Just click here to make a contribution to the cause.
Michaela will be keeping everyone updated on the progress of her training regime and fundraising endeavours via Radio Nova.ie and on air