Lights, Camera, Action
It was a case of Lights, Camera, Action yesterday when an RTE Winning Streak film crew visited our under 10s Guitars for Kids project in St John Bosco Youth Centre, Drimnagh to find out all about the good work we're doing in the community – helping children access life-changing music education programmes.
There was much excitement during the weekly guitar class as the crew went about their business. For most of the young participants this was the first time they've ever come into contact with the cameras and the number one question was for Una the lady in charge of the very large and heavy looking camera – "which moves did you film" they asked, even suggesting a few recent blockbusters.
Despite their inexperience they were all more than happy to let the cameras do their work while they went about the business of learning to play the guitar.  Not even a hint of shyness from the budding young musicians.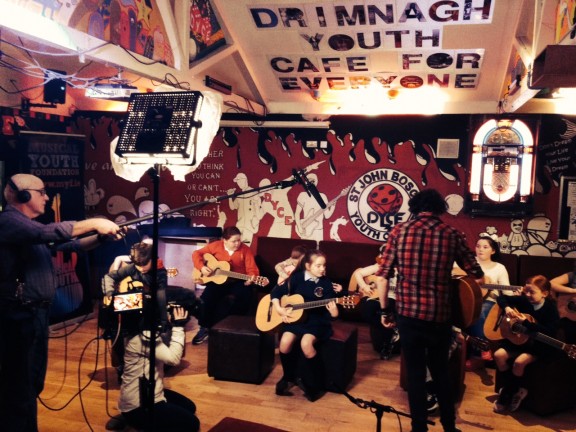 We're all really looking forward to seeing the results when they air during RTE's Winning Streak TV Show in the coming weeks. We'll let you know exactly when you have to tune in soon.
Special thanks to everyone at St John Bosco for facilitating the filming and to the lovely crew from RTE who made the whole experience very enjoyable.