Happy New Year from the Musical Youth Foundation!
I hope 2015 will be a year full of joy, excitement and prosperity for us all.
Although 2014 ended on somewhat of a high note for the MYF, with a €6,000. funding award from the Department of Children / National Lottery Funding, it was all in all a disastrous year in terms of fundraising. The scandals that dogged the charity sector (CRC & Rehab) at the end of 2013 spilled over into 2014 and have left the charity sector in big trouble – job losses and even closures are inevitable it would seem.
On top of a somewhat understandable general lack of trust in any and all charitable organisations most people are feeling the pinch and so naturally donations to charitable causes slip further down the list of priorities. Many organisations are reporting that income from donations is down as much as 50% and of course the smaller the charity the bigger the impact.
While at the MYF we have yet to finalise our 2014 accounts (which we will of course publish online before the end of January) our overall income is expected to be down by -37%. Considering we were only at the very beginning of a process to build the charity into a financially viable full-time organisation (with little or no resources to do so) when the industry was rocked to its core by the Angela & Frank salaries scandal this leaves us in a very serious situation. After-all without the resources to build awareness for the valuable work we do and to attract your donations we can't continue to provide support for those kids it is our mission to help!
It's a vicious circle especially when corporate donors are reluctant to donate because they're not sure if the charity will even exist in 6 month's time. So let's clear that up once and for all – "no matter what happens and as long as I have breath left I will continue to work to help the at-risk young people of Ireland access music education and the many life-changing benefits that provides them."  The only question is; will I be able to do it on a full-time basis and ultimately help thousands or will it have to become an extra-curricular activity I do in my spare time which means we would only be able to assist up to a maximum of 100 children per year?
Over the next few weeks I'll be working hard to try and find a way to secure sufficient funding to ensure I can continue to work full-time on the growth and development of the Musical Youth Foundation. Either way, the funding secured at the end of last year will ensure our 100 guitars for kids participants across 7 locations around Dublin can continue to benefit from weekly music lessons until the end of March and before the month is out there's a road trip to Galway with a van full of instruments for local children! (If anyone has a good contact in a van hire company please let us know)
If you would like to help by making a donation to the Musical Youth Foundation click here. If you think your organisation can help, drop me a mail to arrange a chat.
In the mean time…here's a picture of music giant Daniel O'Donnell enjoying a cup of tea and making good use of the old floor tom we upcycled and which was won by Mutiny Recording Studios in our Q3 Donor Prize Draw!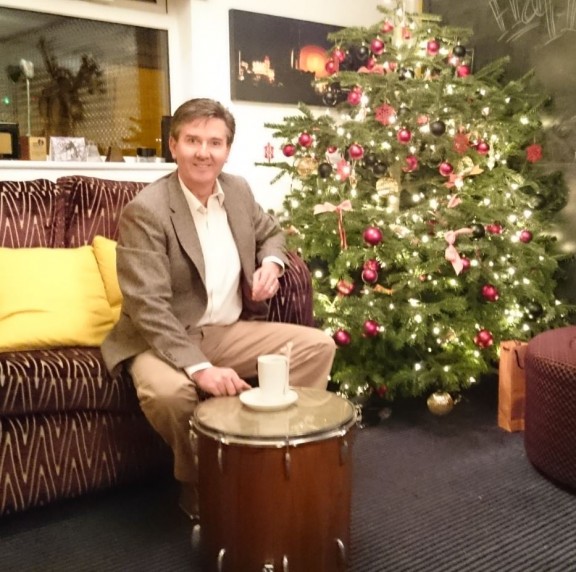 Wishing you all the very best for 2015!
Chris Maher
Founder & CEO
Musical Youth Foundation