Guitars for Kids Expanding
Ten new music education programmes for vulnerable children in Ireland
Access to life-changing music education programmes has been made available to an additional 120+ vulnerable children across ten new locations in Ireland with thanks to vital financial support from the Smurfit Kappa Foundation and the Irish Youth Foundation.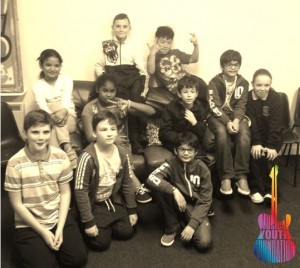 €30,000. in funding, via the IYF  is enabling the Musical Youth Foundation to expand its vital, life-changing music education programme to even more children in Ireland, bringing #EducationEquality one step closer. Over the coming months children in Cork, Dublin, Galway, Kilkenny, Mayo and Offaly will receive weekly professional music lessons, access to practice sessions and various specialist workshops in singing, song-writing and live performance.
Each child participating in the Guitars for Kids programme receives their very own guitar which they can keep for the duration of their engagement with the project. As the young people grow and learn they can then over time upgrade their instruments as required with the old instruments then being passed on to a new group of students.
Head of Grants and Programmes at the Irish Youth Foundation, Sabina Cotter says; "The Irish Youth Foundation are delighted to support the Musical Youth Foundation with financial support from the Smurfit Kappa Foundation. Up to September 2015 this impactful programme was open to young people in Dublin only. This funding provides access to an additional 120+ children around Ireland. They will experience professional guitar lessons otherwise inaccessible due to family circumstances and financial constraints. The Irish Youth Foundation recognises the importance of music in children's lives especially young people living in disadvantaged circumstances.  It helps with their self-confidence, concentration, co-ordination, relaxation and perseverance"
The funding is enabling us to increase the number of vulnerable young people the Musical Youth Foundation can support to over 200 children across 17 locations in Ireland. In 2015 we will provide more than 700 hours of professional music tuition + 1400 hours of practise sessions across all projects – not bad going for a charity with little or no financial resources at present.
For a full list of locations click here!

If you would like to support our worthwhile programme, and help us to expand our proven service to even more young people in Ireland please consider making a donation by visiting our online donation page!