Extended Run for Instrumental Art
Instrumental Art Exhibition will remain open in time to welcome it's 10,000 visitor next week before closing on Sunday July 8th at 6pm. The exhibition hosted by the good people at Stephen's Green Shopping Centre has attracted locals and tourists in their droves to the top floor of the shopping centre to view over 100 amazing pieces of Instrumental Art.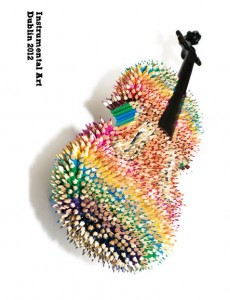 The exhibition features many of Ireland's best known artist, designers and musicians. Guitars, violins and even drums are the canvasses used to create this absolutely stunning exhibition. More than 150 people contributed their time, energy and skills to make the exhibtion a reality.
"Feedback from visitors to the exhibition has been overwhelming. We've had people from all over the world come to visit us, they all love it" says our Founder & CEO Chris Maher. Some of the comments left in our visitors book include:
"Awesome" – Emily, France.
"Creative, very inventive" – Heather, Canada
"Great exhibition, very interesting" – Ignacio, Uruguay
"Beautiful, just beautiful" – Jinhynk, South Korea
"a testament to what can be achieved with collaboratation" – Sarah, USA.
"amazing" – Carla, Italy
"fantastic work" – Debbie, Australia
"Incredible" – Becky, Canada
All the instruments in the exhibition are on sale – anyone interesetd in picking up a piece of unique Instrumental Art is advised to get down to the Stephen's Green Shopping Centre and make an offer before the exhibition closes on Sunday July 8th. All proceeds will help the MYF to provide more children with access to music and music education. If purchasing a piece of Instrumental Art is out of your price range, pick up the limited edition postcard book featuring 16 postcards for just €5.
The Instrumental Art Exhibition will remain open until 6pm on Sunday July 8th before making way for the return of the Phil Lynott Exhibition.
The Exhibition is open from 11am – 7pm Monday – Saturday, 9pm on Thursday and 12pm – 6pm on Sunday.