Something in the air…
Lately a trip to the post box hasn't been anything to look forward to, just the usual junk mail and bills but this morning was different! This morning there was something in the air, perhaps it's the smell of Christmas or maybe it was just the official looking envelope – either way this morning was different!
Anxiously prizing open the envelope, hoping it wasn't a bill or some junk mail in disguise there's the moment of confusion…why would Dr James Reilly (a.k.a. Minister for Children & Youth Affairs) be writing to me!? Oh wait he's writing to inform us the National Lottery Grant Application we submitted over six months ago has been processed and wait what's this now…€6,000. in grant funding for the Musical Youth Foundation to invest in music education for children!?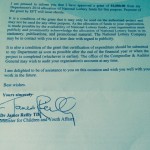 WOW! I really didn't see that coming. To be honest I'd completely forgotten about the application, 6 months is a long time in the world of charity fundraising and well as positive as I am I just presumed we hadn't been selected as one of the chosen ones given the time frame. So it was a nice and most welcome surprise and a fantastic way to bring the working week to a close. Not that Saturday isn't a working day for the Musical Youth Foundation.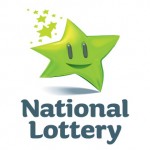 So I'm delighted to announce the €6k in National Lottery Funding from the Department of Children and Youth Affairs for the Musical Youth Foundation.
The grant will ensure we can provide over 100 more at-risk young people with access to our life-changing music education programmes up to April 2015. This will have a real and measurable impact on the lives of those children.
There's plenty of global research that proves the power of music education to build confidence and concentration in young people and to ultimately impact overall academic performance but there's nothing like witnessing it first-hand. Over the last 5 years we've seen just how valuable a tool music education can be and we want to make it available to every child in Ireland.
You can help by supporting our cause…
Obviously we still need your financial donations but if you can't spare the cash right now maybe you could tell your friends and family about the Musical Youth Foundation, like and share our Facebook page or volunteer your time and skills? Or maybe you've got an old instrument lying dormant under your bed or in your attic, shed or garage? Whatever and however we need all the help we can get. Your support to a small organisation like ours will have a real impact and will help to make someone else's life better and won't just get swallowed by over inflated salaries!
You can give the gift of music education this Christmas, just use the widget below to make a donation via JustGiving.com or give directly by clicking on the MYF Donate button or get in touch to find out more.
Thanks for your support, have a super weekend!
Chat to you next week!
Chris