Round Ireland With A Fridge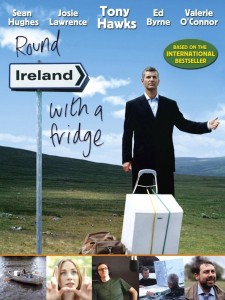 The Musical Youth Foundation has teamed up with best-selling author, TV and radio comedian Tony Hawks to present a very special film screening of "Round Ireland With A Fridge" in Screen 1 of Movies@Dundrum on Monday October 24th at 7pm.
The event will be hosted by Tony Hawks who will be answering audience questions following the screening. The film, which is directed by renowned producer Ed Bye (of Red Dwarf fame) is based on the true life adventures of Tony Hawks and his absurd quest to hitch round the circumference of Ireland within a month…with a fridge in order to win a £100. bet made while heavy with alcohol. The book became a top 10 Sunday Times bestseller in 1998, was serialised on BBC Radio 4, and led to a six month TV advertising campaign for HARP Irish Lager. It has since sold well over 800,000 copies worldwide including the US and Australia, and has been translated into several languages including Hebrew, Italian, Dutch and German.
The movies cast includes Ed Byrne, Sean Hughes and Valerie O'Connor as well as Tony Hawks who plays himself.
Tickets for this exclusive, fun-filled event are available from just €10. from www.entertainment.ie/myf and all proceeds go directly to the Musical Youth Foundation children's charity which is working to provide every child on the Island of Ireland with access to a musical education.
Anyone who buys tickets to this show will be automatically entered into our draw for 4 tickets to see US singing sensation Mirenda Rosenberg & The Rare Groove Funk Orchestra live in concert at The Grand Social on November 26th 2011!
Watch the trailer…

Film Overview:
Whilst in Ireland for an International Song Competition, Tony Hawks was amazed to see a hitch-hiker, trying to thumb a lift, but with a fridge. This seemed amazingly optimistic – his Irish friends, however, thought nothing of it at all. "I had clearly arrived in a country", writes Tony, "where the qualification for 'eccentric' involved a great deal more than that to which I had become used". Years pass… but the fridge incident haunts our author.
Until one night, heavy with drink, he finds himself arguing about Ireland with a friend. It is, he insists, a "magical place", so magical in fact, that a man could even get a lift with a fridge. The next morning there is a note by the bed. "I hereby bet Tony Hawks the sum of One Hundred Pounds that he cannot hitchhike around the circumference of Ireland with a fridge within one calendar month." The document was signed. The bet was made. This book and subsequent film is the true story of Tony's adventures through that incredible month. The people he meets, the difficulties, the triumphs. The fridge!
The film, directed by Ed Bye (Director of the infamous 'Red Dwarf' and most recently involved with the BBC series 'Coming of Age'), recreates Tony's actual 1997 journey around Ireland as he re-evaluated his life and career, found romance, met a wide range of bizarre characters, made many new friends and discovered that people are perfectly prepared to treat a small white domestic appliance as though it was a fully fledged person with a personality in its own right. During the course of the film the fridge is taken surfing, christened, blessed by nuns, accompanied by a bagpiper, taken to a bachelor festival and becomes the hero of a national radio station as Tony and all those he encountered become aware of the power and philosophy of the fridge!
"Round Ireland With A Fridge" hosted by Tony Hawks
Monday October 24th, Screen 1 Movies@Dundrum
Tickets available from www.entertainment.ie/myf