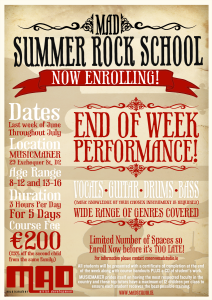 Children from the Musical Youth Foundation's "guitars for kids" programme will be Rocking Out all this week at an exclusive "Summer Rock School", with thanks to the good people at Musicmaker's MAD Studio (Musicmaker Artist Development) who have very kindly donated 5 places on the highly sought after course!
This is a fantastic opportunity for the children participating to improve their musical knowledge and experience in the areas of vocals, guitar, bass and drums. The courses run weekly and culminate in a live performance opportunity for each participant. On completing the course each child will receive a certificate and a CD of their live performance as a memory of their experience at their very own School of Rock!
For more information on the Musicmaker Summer Rock School visit their website!
A big THANK YOU to our friends at Musicmaker and MAD Studio who understand the importance of music education and the positive life changing difference it can make to a child's life!