Music Changes Lives
With Christmas just a couple of weeks away I've been busy visiting our Music Education Partners to check up on progress, chat to the young people taking part, the youth workers, leaders and teachers and to make sure your donations are being put to best use across each of our seven locations.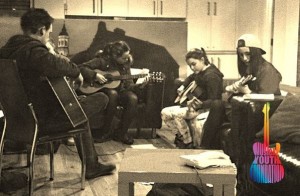 Ensuring the funds raised are never wasted is extremely important to me personally, after-all I'm the guy asking you to put your trust in me and donate to the Musical Youth Foundation when there are so many other worthwhile causes for you to choose from.
I'm delighted to report that with your support, together we are making a real and lasting difference to the lives of almost 100 young people across 7 locations around Dublin. That's 100 young people who can now play the guitar, some with an extraordinary ability, that would otherwise not have had the opportunity to do so. The ripple effect of this simple and cost effective education programme cannot be understated.
With each week and every lesson completed you can see the participating young people grow in confidence, a confidence they leave the music lesson with and bring with them into every other area of their daily lives. All of a sudden academic studies that once were terribly daunting are no longer such a struggle. Hurdles which once seemed unsurmountable are now simple stepping stones to new and greater things.
In theory it was simple – give kids access to music lessons and instruments and watch them flourish. After-all this isn't some revolutionary concept, the evidence is well known and proven by countless studies the world over – music changes lives!
In practise there have been many challenges but with five years under our belts you can really start to see the benefits of establishing long-term music education partnerships with local community centres and schools. The young people that began learning to play the guitar with us five years ago are now competent young musicians. More importantly all of them have remained engaged with the overall education process rather than becoming early school leavers. In fact many of them are now engaged with the project on a new level. They're taking on leadership roles and mentoring the newer members of the programme, passing on their learned knowledge and skill to a whole new group of young people.
We've even seen our first young participant become of age to sit the Leaving Certificate and they are now studying Music Performance at a third level college in the city. An achievement once thought impossible has turned out to be relatively easy with just a little encouragement and the opportunity to grow through the power of music education.
Over the next couple of years more and more of our young participants will reach Leaving Cert stage and we'll be there to support them and watch them grow. It's exciting to witness the Musical Youth Foundation project mature and we're looking forward to the coming years as more and more young people are given the opportunity to flourish through the power of music education.
You can be a part of this amazing achievement by making a donation today!
Thank you for your continued support!
Chris Maher Founder & CEO