Instrument Bank Open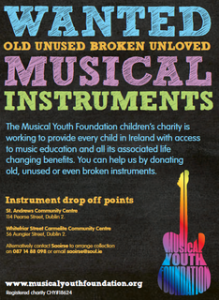 The Musical Youth Foundation children's charity is calling on members of the public to help them with their mission 'to provide every child on the island of Ireland with access to a musical education' by donating old or unused instruments to the charity which promises to put them to good use.
Founder & CEO Chris Maher reckons there are literally thousands of old, unused and forgotten about instruments gathering dust under beds and in attics all over the Country and is calling on members of the public to consider supporting the Musical Youth Foundation by donating them. Anyone with an instrument to donate should email saoirse@soul.ie.
Everyone who donates an instrument to the charity  will be invited to a Top Secret event taking place as part of the 6th annual Dublin City Soul Festival.
While stringed instruments, especially guitars are top of our wish list we will gladly accept any and all donations no matter how bashed up they may be. Broken guitars are very welcome…we will give them a new lease of life. Chris Maher went on to say; "we've got some really exciting plans to ensure we achieve our goal of bringing music education to every town and village across Ireland. The benefits of music education go way beyond learning an instrument." "Quite literally "music changes lives" he said.
To arrange your instrument donation email saoirse@soul.ie or call 087 148 8098