Hats off to Designer Hugo Thompson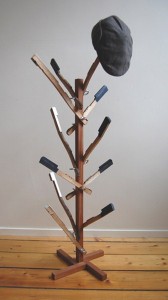 Feelance Designer Hugo Thompson is one of 30 talented artists and designers exhibiting at Design Week 2011. His speciality is Interiors and Furniture though his love of music is clear for all to see with his clever use of old piano keys bringing new life and meaning to the long since silent keys. From inspiring piano themed benches, piano key record holders, piano key lampshades and even a piano key hat stand which Hugo very generously put up for raffle to benefit the Musical Youth Foundation.
The raffle generated €324. for the charity which plans to invest the money in instruments for its latest after school music programme.
Design Week runs in The Malthouse Design Centre until Sunday November 6th at 5pm.
Hugo is a Freelance Designer with over 10 years experience in the design industry. He graduated from the National College of Art & Design, Ireland in 1998 with a BA in Industrial Design. He has gained valuable experience working on projects for manufacturers in-house and consultancies in both Product and Furniture Design.
Specializing in Interiors and Furniture, he has a comprehensive understanding of the design process from concept generation to delivering the finished product to the client. In 2005 he earned a BA with 1st Class Honours in Furniture Design from UBI & University of Huddersfield.
He also makes one-off furniture and sculptural pieces to commission for special events and exhibitions.
For more information about Hugo Thompson visit at http://hugothompson.ie